Since the data is extremely old, the article will be difficult to rely on.

Parts of this article's content have been identified as being out of date and require more recent information. Please remove this template when updates are finished.
All Terrain Tactical Enforcer

Manufacturer(s)

Rothana Heavy Engineering
Kuat Drive Yards

Type

Walker

Length

13.2 meters

Armament

6 anti-personnel laser cannons
1 mass-driver cannon

Affiliation
The All-Terrain Tactical Enforcer, or AT-TE, was a heavily armored unit of the Grand Army of the Republic. It was a common sight on the battlefield appearing in the battles of Ryloth, Christophsis, Geonosis, and most others. The AT-TE was the Republic's counterpart to the AAT, and could deal and be dealt heavy damage. It had a large turret, and six long, powerful legs. With these, the AT-TE could scale walls, with its feet planting themselves on the rock. They provided it more stabilty, but also slowed it down considerably . This vehicle also had a control room in the middle and a cockpit in front, where the pilot and gunners operated the unit.
History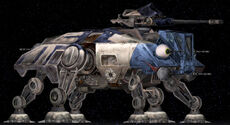 The AT-TE was first deployed during the First Battle of Geonosis, where it played an important role in pushing back the droids, although many were destroyed or heavily damaged by Hailfire droids. Since then, they were present in nearly all major battles between the Confederacy and the Republic.
Complement
Magnetic feet
Pressurized cabin, resistant to the vacuum of space
Magnetic shielding, protecting it from ion weapons
Two AT-RTs stored in rear
Weapons
Four anti-personel laser cannons at the front
Two anti-personel cannons at the back
One massive projectile cannon
Appearances
Community content is available under
CC-BY-SA
unless otherwise noted.