"I want you troopers to remember, we're shoulder-to-shoulder on those front lines. Brothers! And sometimes we may quarrel, but no matter what, we are united. Rule one, we fight together."
―Colt, to several squads of clone cadets on Kamino
Colt was an ARC trooper commander and head of Rancor Battalion during the Clone Wars. On Kamino, he, alongside El-Les, Bric, and Shaak Ti trained clone cadets.
Appearance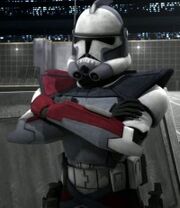 Colt was one of the
ARC troopers
to have experimental
Phase II armor
before it was released to the rest of the
clone troopers
. On it, he had a pauldron, one side of which was red, the other black. On his wrist, he had a control panel. He had dark grey skull markings on his helmet and his knees. He also had red stripes on his forearms, a
kama
, and had two DC-17 hand blaster holsters.
Clone Cadets
"You broke formation, disobeyed orders, and you left a man behind! You broke Rule Number 1."
―Colt criticizing Domino Squad
Colt saw to the initiation of many clones before and during the Clone Wars. During the second year of the war, he, along with Commanders Blitz and Havoc, watched many clone cadet squads pass the tests very well, all except one; Domino Squad. Colt didn't like the way they fought, disagreed, and didn't work together. He disapproved of their methods and thought they wouldn't succeed. He was seen watching the cadets during their last practice test, and he saw them fail. He also saw their final test, in which they failed that too. He also saw them during their retake of their test and finish it in spectacular time and using great ingenuity. Lastly, he, along with other ARC troopers, congratulated the cadets when they passed and sent them away to fight in the war.
ARC Troopers
Sometime during the war, Colt joined his fellow troops in defending his home world from the attacking Separatists, in what was known as the Third Battle of Kamino. He spent his time in the battle along with several other troops tracking down Asajj Ventress, something which he finally did. He struck into battle against her after she left conversation with the commanding officer of the Separatist forces, but watched as all of his fellow troops were quickly wiped out by battle droids. He aimed at Ventress, but was Force choked by the acolyte. She brought him closer and stabbed him in the chest, killing him instantly. Before dropping his dead body to the ground, Ventress kissed him on the cheek, a sign of disrespect for the fallen ARC.
Appearances
Facts
The scene of Colt's death originally contained Ventress kissing Colt as she impaled him; this was removed from the episode in the first act of censorship in the series. Instead, it was only implied that Ventress had stabbed Colt with her lightsaber.
In 2011 Hasbro released Colt as an action figure with an incorrect name, Red Leader ARC Trooper.
Community content is available under
CC-BY-SA
unless otherwise noted.