More to add, have you?

It is requested that this article/section of an article be expanded. Once the article contains more information, this template will be removed.
Thissa one big mess!

This article is marked as requiring cleanup to a higher standard of quality. You can help The Clone Wars by adding and/or cleaning up and reformatting this page.
Jabba Desilijic Tiure, also known as Jabba the Hutt, was a Hutt crime lord who controlled the planet Tatooine. Jabba was one of the most feared gangsters and had dozens of aides and Bounty Hunters, including Sy Snootles and Greedo at his command.
History
Star Wars: The Clone Wars (film)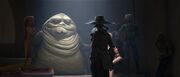 Jabba was the son of Zorba Desilijic Tiure, one of Ziro the Hutt's brothers, and a son who he named Rotta. Rotta would be the center of a Separatist kidnapping plot meant to pressure the Hutt Clans into allying with the Separatist Confederacy. However the Jedi succeeded in foiling this plot leading to a relationship between Jabba's empire and the Republic allowing its forces passage through Hutt space.
Appearances
Community content is available under
CC-BY-SA
unless otherwise noted.