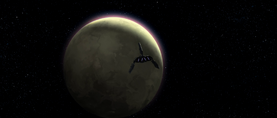 The Mandalore sector, also known as Mandalorian Space, was a sector located in the Outer Rim Territories that contained nearly a thousand worlds that were neutral and not part of the Galactic Republic. It contained the planets Mandalore & its moon Concordia, Kalevala, and Concord Dawn.
Star systems
Native species
Appearances
Community content is available under
CC-BY-SA
unless otherwise noted.