More to add, have you?

It is requested that this article/section of an article be expanded. Once the article contains more information, this template will be removed.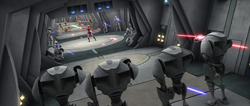 "We believe my droid, Artoo, is still onboard. He's the one that led us here."
"Hmm… this complicates things. You must sneak aboard that station and destroy it, before they crack Artoo's memory banks. I know you're fond of that droid, but he's fallen into enemy hands."
―Anakin Skywalker and Obi-Wan Kenobi discuss the discovery of the Separatist spy station
The Mission to Skytop Station occurred in 22 BBY shortly after the Battle of Bothawui, during which Jedi General Anakin Skywalker lost his Astromech Droid, R2-D2. Though R2 was believed to have been destroyed in the battle, Trandoshan scavenger Gha Nachkt found him and delivered him to General Grievous for the valuable information within the Droid's memory banks. As he was transported, however, R2 managed to relay a distress signal for Skywalker and his padawan Ahsoka Tano to follow.
This led the group to the discovery of Skytop Station, a Separatist listening post over Ruusan 2. Though Jedi Master Obi-Wan Kenobi ordered the destruction of the station, Anakin believed that R2 was onboard and decided to rescue him while Ahsoka and Captain Rex led the team to plant charges to destroy the station.
Participants
| GRAND ARMY OF THE REPUBLIC | CONFEDERACY OF INDEPENDENT SYSTEMS |
| --- | --- |
| LEADERS | LEADERS |
| 501st Legion | Droid Army |
| VEHICLES | VEHICLES |
Outcome
Republic victory

R2-D2 rescued; R3-S6 destroyed
Skytop Station destroyed
Casualties
Galactic Republic
Confederacy of Independent Systems
All forces except General Grievous and Soulless One
Appearances
Community content is available under
CC-BY-SA
unless otherwise noted.