Merging Pages
I will be merging this page with Waxer (Clone Trooper) TVLwriter 22:58, March 29, 2011 (UTC)
Unconfirmed appearance.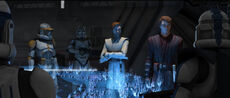 The 212th trooper seen next to Cody at the beginning of Darkness on Umbara has not been confirmed as Waxer. Please do not add this to the page unless you have a valid source confirming his appearance there.
Bane7670
00:37, October 31, 2011 (UTC)
This image confirms that the Clone in "Darkness of Umbara" was indeed Waxer. http://starwars.com/img/explore/the-clone-wars/slideshow/ep410/preview/preview05.jpg—Preceding unsigned comment added by 89.100.25.23 (talk • contribs)
This is a valid confirmation, and this has been added to the page, as well as Darkness on Umbara. Bane7670 19:26, November 13, 2011 (UTC)
Community content is available under
CC-BY-SA
unless otherwise noted.