Welcome to The Clone Wars Wiki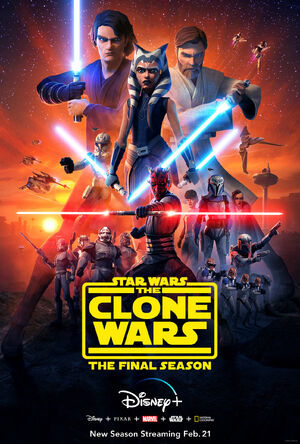 The Clone Wars Wiki is a database for all things related to the 2003 Star Wars: Clone Wars micro-series, the 2008 Star Wars: The Clone Wars television series, and the 2021 Star Wars: The Bad Batch Disney+ original series.
Star Wars: The Clone Wars is an animated spin-off show from the main Star Wars film series which started in 1977. The Clone Wars is set between the events of Star Wars: Attack of the Clones and Star Wars: Revenge of the Sith, just as the Republic, led by the Jedi, and the Separatists are locked in a war dubbed The Clone Wars!
We are a fan-based community and anybody can edit our articles, however please remember to follow our policies to ensure a neat and informative website. We also encourage editors to create a registered account so that you will be easier to contact and identify. If you have any questions, concerns, or suggestions please contact an administrator. Also check out our discussion boards regarding everything on the Wiki. Please note that Star Wars: The Clone Wars and all content related to Star Wars: The Clone Wars is under the copyright of Lucasfilm Ltd.
We are currently editing 2,497 articles since August 19, 2008, and we are the go-to place for all things Star Wars: The Clone Wars!
Warning: This wiki may contain spoilers!
Star Wars: The Bad Batch
Disney+ has ordered its next animated series from Lucasfilm, Star Wars: The Bad Batch.
The series follows the elite and experimental clones of the Bad Batch (first introduced in The Clone Wars) as they find their way in a rapidly changing galaxy in the immediate aftermath of the Clone War. Members of Bad Batch -- a unique squad of clones who vary genetically from their brothers in the Clone Army -- each possess a singular exceptional skill, which makes them extraordinarily effective soldiers and a formidable crew. In the post-Clone War era, they will take on daring mercenary missions as they struggle to stay afloat and find new purpose.
The original series is currently streaming only on Disney+.
Affiliates
Official
Unofficial